We offer complimentary designer assistance and our knowledgeable sales people are available Mon-Fri from
10 am to 6 pm and Saturdays from 10 am to 5 pm to guide you through the selection and ordering of all furniture and bedding shown on our website.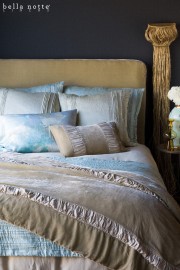 Trecento ruching lends vintage glamour to Cotton Velvet in our last collection, Chloe. 51" x 92" 4 1/2" Trecento Ruching on Face, Backed in...