We offer complimentary designer assistance and our knowledgeable sales people are available Mon-Fri from
10 am to 6 pm and Saturdays from 10 am to 5 pm to guide you through the selection and ordering of all furniture and bedding shown on our website.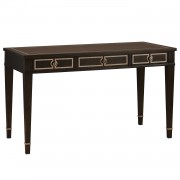 The handsome Currey & Co Belden desk sets a sophisticated tone among polished office spaces. A slim silhouette gains interest in richly stained...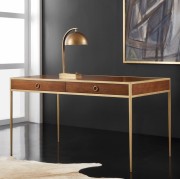 Dimensions: 54w x 33d x 30h Features: (2) Solid Oak Materials: Walnut Veneer; Iron Gold Leaf Frame MH1107F01 Free Premium Shipping