We offer complimentary designer assistance and our knowledgeable sales people are available Mon-Fri from
10 am to 6 pm and Saturdays from 10 am to 5 pm to guide you through the selection and ordering of all furniture and bedding shown on our website.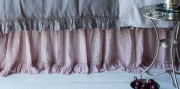 Linen Whisper with 5" ruffle, 22" drop Includes 3 panels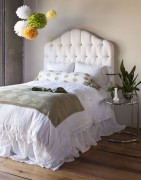 22" drop, 3 panels Machine wash & tumble dry.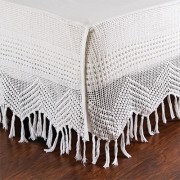 Vintage-inspired, this Bed Skirt features a soft cotton crochet and hanging fringes. 100% Linen Cotton Crochet Trim Lined Machine wash cold;...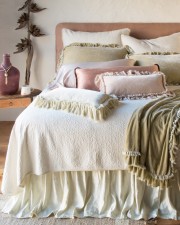 Luminous and luxe, paloma is a shimmering charmeuse. Charmeuse: 65% silk, 35% linen, 4.5 oz Gathered 22" Drop, 3 Panels (t-pins not...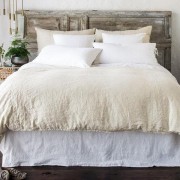 The Ines Bed Skirt features all-over diamond embroidery finished with an intricate embroidered band along the bottom edge. An elegant 22" drop allows...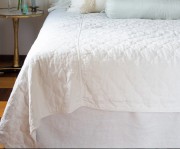 The Austin Bed Skirt adds an understated elegance to your bed. Designed with our midweight linen, a generous 22" drop allows the skirt to softly...