We offer complimentary designer assistance and our knowledgeable sales people are available Mon-Fri from
10 am to 6 pm and Saturdays from 10 am to 5 pm to guide you through the selection and ordering of all furniture and bedding shown on our website.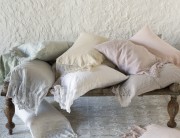 Olivia Linen is a discontinued collection and all availability reflects in stock merchandise. Only sold as a pair. Crocheted cotton flowers...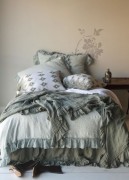 Olivia is a discontinued fabric and any availbility reflects in stock merchandise. Scalloped edge; cover only; for liner see Linen standard...