We offer complimentary designer assistance and our knowledgeable sales people are available Mon-Fri from
10 am to 6 pm and Saturdays from 10 am to 5 pm to guide you through the selection and ordering of all furniture and bedding shown on our website.
Valentina is a discontinued collection and all availability reflects in stock merchandise. Charmeuse body with pintuking details, 6" Gauze ruffle...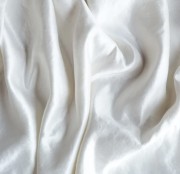 Charmeuse: 65% Silk, 35% Linen Width: 52" 3 yards maximum per piece; full yard increments only. On quantities over 6 yards, color match not...