We offer complimentary designer assistance and our knowledgeable sales people are available Mon-Fri from
10 am to 6 pm and Saturdays from 10 am to 5 pm to guide you through the selection and ordering of all furniture and bedding shown on our website.
Bella Notte Spring 2020 Collection
Austin Euro Sham in White Linen Pillowcase in Fog Ines Sham in White Austin Duvet in White Austin Coverlet in Fog Linen Fitted Sheet in...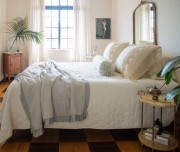 Frida Sham in Parchment Linen Pillowcase in Parchment Paloma Bolster in Cloud Delphine Personal Comforter in Cloud Austin Coverlet in Winter...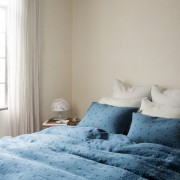 Austin Sham in Sterling Linen Pillowcase in Eucalyptus Ines Sham in Cenote Ines Duvet in Cenote Linen Fitted Sheet in Sterling Linen Flat Sheet...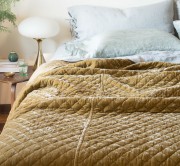 Ines Sham in Cloud Paloma Pillowcase in Cloud Linen Fitted Sheet in Cloud Linen Flat Sheet in Cloud Silk Velvet Quilted Coverlet in Honeycomb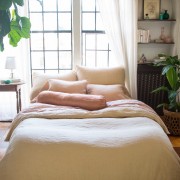 Austin Sham in Parchment Paloma Pillowcase in Rouge Paloma Bolster in Rose Gold Linen Fitted Sheet in Rouge Linen Flat Sheet in Rouge Austin Duvet in...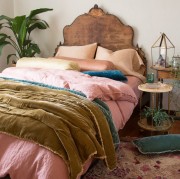 Paloma Pillowcase in Rouge Paloma Bolster in Rose Gold Paloma Bolster in Honeycomb Carmen Kidney Pillow in Cenote Carmen Lumbar Pillow in...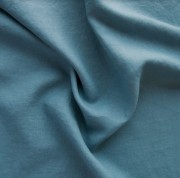 AUS903 Width: 53" Midweight Linen Quilted, Signature Linen Back Pattern Repeat: 5.625"L x 3.75"W 5% Upcharge to Ship on a Roll, 1 to 3 Yard...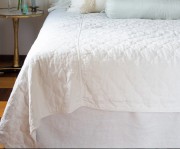 The Austin Bed Skirt adds an understated elegance to your bed. Designed with our midweight linen, a generous 22" drop allows the skirt to softly...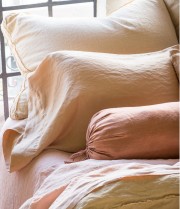 The Austin Sham adds a clean, relaxed look to your bed. The structured gusset is finished with a raw edge - a fresh take on a modern silhouette. Made...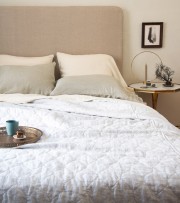 The Austin Coverlet features relaxed diamond stitching on midweight linen, finished with a raw edge. Spun from European flax, this soft layer only...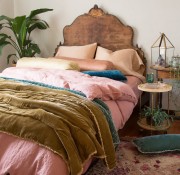 The Austin Duvet Cover is crafted of midweight linen, spun from European Flax. Its understated elegance is an evolution of our signature linen style....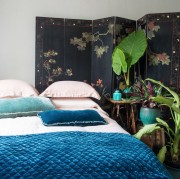 Linen Sham in Pearl Linen Pillowcase in Pearl Linen Duvet in Pearl Carmen Lumbar Pillow in Eucalyptus Carmen Kidney Pillow in Cenote Silk Velvet...