We offer complimentary designer assistance and our knowledgeable sales people are available Mon-Fri from
10 am to 6 pm and Saturdays from 10 am to 5 pm to guide you through the selection and ordering of all furniture and bedding shown on our website.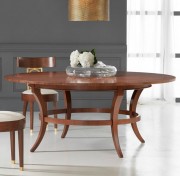 MH933F01 30"H x 72"W x 72"D This Brighton Dining Table is a classic dining table with mahogany construction and fruitwood veneer with inlay. It...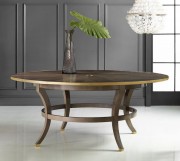 MH933F02 30"H x 72"W x 72"D The Infiniti neo classical dining table has a mahogany construction in a Grey Sycamore finish. It has brass side...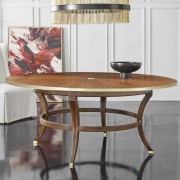 Dimensions: 72w x 72d x 30h Shipping Weight: 176.0 Features: Solid Brass Banding and Details Materials: Straight Grain Walnut Veneer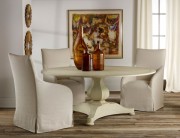 Dimensions: 60"W x 60"D x 30"H" Dimensions: 72"W x 72"D x 30"H" Finish: Antique Grey SKU: MH891F01 (60") SKU: MH890F01 (72") Free Premium...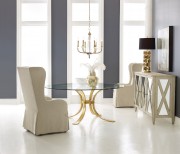 Retro Gilded Dining Table (Base Only) Finish Hammered Wrought Iron. Gold Leaf Detailing. 72"x28" Free Premium Shipping! We have earned "Signature...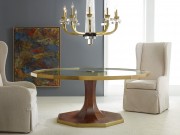 Glass & Burl Dining Table 72"x30" Free Premium Shipping! We have earned "Signature Retailer Status" with Modern History making Cottage Chic the...