We offer complimentary designer assistance and our knowledgeable sales people are available Mon-Fri from
10 am to 6 pm and Saturdays from 10 am to 5 pm to guide you through the selection and ordering of all furniture and bedding shown on our website.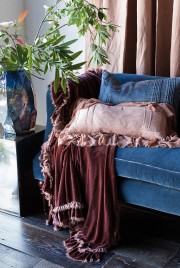 A luxurious 4" silk velvet ruffle and petite ruffle trim adorn four sides of our Loulah Blanket, their raw edges and delicate eyelashes adding a...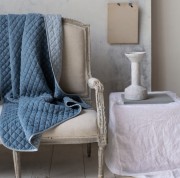 Silken and plush, our Silk Velvet Quilted Blanket offers a ribbon of jewel-toned color to the end of your bed or arm of your settee. Backed and edged...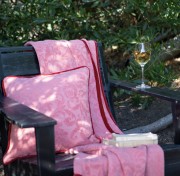 The Adele Blanket is an elegant throw that will drape you in 100% organic cotton. Edged in silk velvet for color and textural variation, the...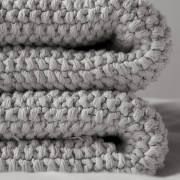 Knot Throw Knot is a unique hand knit throw produced by a collective in South America who are dedicated to improving the lives of women by sharing...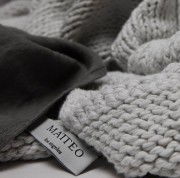 Rope Blanket This luxury blanket is a staple piece for the home. It is hand-knitted by a collective of women in South America who are dedicated to...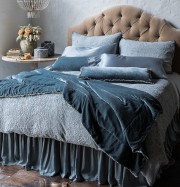 A petite charmeuse ruffle with raw edges frames our Carmen Blankets, adding a hint of color play and shimmering detail. Available in two styles...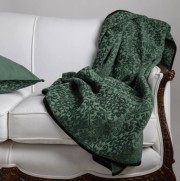 The Vienna Blanket is the perfect blanket for your sofa, favorite armchair or on a bed as an accent. This single-layer blanket is reversible Trim:...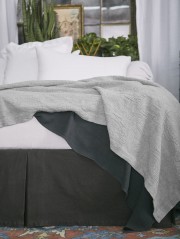 Matelasse is an incredible weaving technique invented by the French, using thick filling yarn to mimic an antique hand quilt. We worked with one...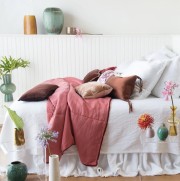 Soft and shimmering, our garment dyed Paloma Blanket dazzles in all of our hues. With an iridescent silk charmeuse body and a petite silk velvet...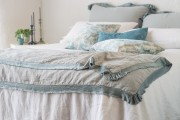 The Delphine Personal Comforter has been discontinued and any availability reflects in stock merchandise. The Delphine Personal Comforter offers a...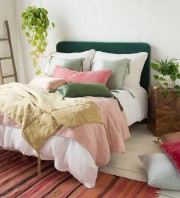 Our Taline Blanket pays homage to the eclectic elegance of Moroccan design. Featuring our signature silk linen charmeuse, Taline shimmers in all...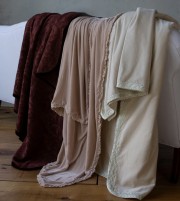 he Harlow Large Throw Blanket is the must-have accessory for a bedroom, reading nook, sofa or chaise. Two layers of cotton velvet framed by...