We offer complimentary designer assistance and our knowledgeable sales people are available Mon-Fri from
10 am to 6 pm and Saturdays from 10 am to 5 pm to guide you through the selection and ordering of all furniture and bedding shown on our website.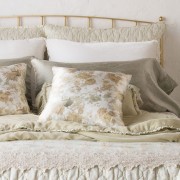 Luminous and luxe, Silk Velvet edges our shimmering Charmeuse. Charmeuse: 65% Silk, 35% Linen, 4.5 oz; Silk Velvet: 82% Rayon, 18% Silk, 7 oz...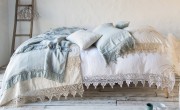 Delicate cotton lace on our signature Linen enchants with old-world Spanish colonial charm. 100% Linen (exclusive of trim), 5.25 oz Available...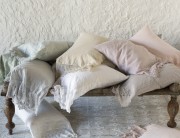 Crocheted cotton flowers blossom in spiraling elegance atop Point d'Esprit netting. 100% Cotton embroidery on 100% Nylon Point d'Esprit, 2.9 oz...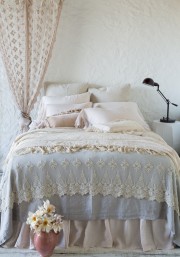 The same buttery hand and easy drape as our best-selling Madera, but a slightly heavier weight. 100% Tencel Lyocell - an environmentally...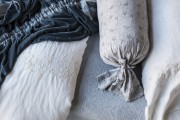 Linen embellished with a delicate orchid embroidery. 100% Linen, 5.25 oz; Embroidery: 100% Cotton Available in all current colors. Product dimensions...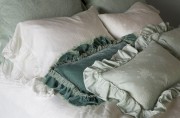 Soft ruffles and delicate blooms adorn this floral jacquard. Isabella: 100% Tencel, 4.5 oz. Available in all current colors. Product...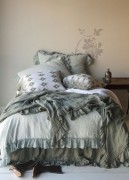 Scalloped edge; cover only; for liner see Linen standard pillowcase Standard: 20" x 31" King: 20" x 41"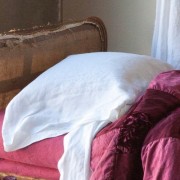 4" self flange Machine wash & tumble dry. Standard: 20" x 33" King: 20" x 43"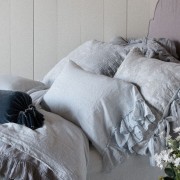 Linen Whisper Standard Pillow Case Linen with 5" Linen Whisper ruffle Standard: 20" x 33" King: 20" x 43"