We offer complimentary designer assistance and our knowledgeable sales people are available Mon-Fri from
10 am to 6 pm and Saturdays from 10 am to 5 pm to guide you through the selection and ordering of all furniture and bedding shown on our website.
Bella Notte Baby Blankets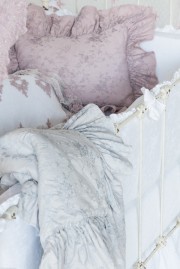 Cottage Chic Exclusive- Limited quantities available. The beauty of this delicate floral jacquard lies in its exquisite two-tone patterning and...