We offer complimentary designer assistance and our knowledgeable sales people are available Mon-Fri from
10 am to 6 pm and Saturdays from 10 am to 5 pm to guide you through the selection and ordering of all furniture and bedding shown on our website.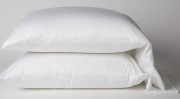 Lustrous and sophisticated, these cotton sateen Bria Pillowcases are radiant in Bella Notte's entire palette of hand-mixed colors shimmering in the...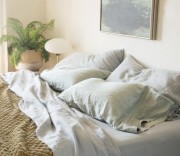 Luminous and luxe, Silk Velvet edges our shimmering Charmeuse. Charmeuse: 65% Silk, 35% Linen, 4.5 oz; Silk Velvet: 82% Rayon, 18% Silk, 7 oz...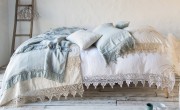 Delicate cotton lace on our signature Linen enchants with old-world Spanish colonial charm. 100% Linen (exclusive of trim), 5.25 oz Available in all...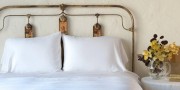 The same buttery hand and easy drape as our best-selling Madera, but a slightly heavier weight. 100% Tencel Lyocell - an environmentally...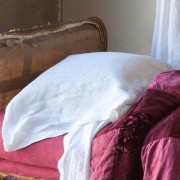 4" self flange Machine wash & tumble dry. Standard: 20" x 33" King: 20" x 43"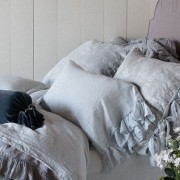 Linen Whisper Standard Pillow Case Linen with 5" Linen Whisper ruffle Standard: 20" x 33" King: 20" x 43"