We offer complimentary designer assistance and our knowledgeable sales people are available Mon-Fri from
10 am to 6 pm and Saturdays from 10 am to 5 pm to guide you through the selection and ordering of all furniture and bedding shown on our website.
Bella Notte Tabletop Collection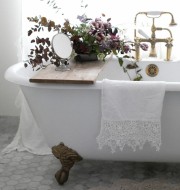 Delicate cotton lace on our signature Linen enchants with old-world Spanish colonial charm. 100% Linen (exclusive of trim), 5.25 oz Available in all...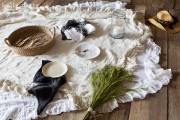 Romantic and ethereal, our Linen Whisper Guest Towel is a whimsical piece adorned with a 5" ruffle and petite ruffle trim on each end. Garment...