We offer complimentary designer assistance and our knowledgeable sales people are available Mon-Fri from
10 am to 6 pm and Saturdays from 10 am to 5 pm to guide you through the selection and ordering of all furniture and bedding shown on our website.
Bella Notte Blankets / Throws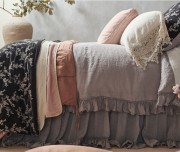 The Harlow Large Throw Blanket is the must-have accessory for a bedroom, reading nook, sofa or chaise. Two layers of cotton velvet framed by...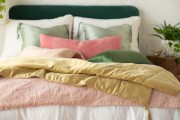 Our Taline Personal Comforter pays homage to the eclectic elegance of Moroccan design. Featuring our signature silk linen charmeuse, Taline...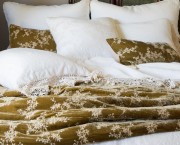 Inspired by a vintage chinoiserie, the Lynette Personal Comforter features floral embroidery with pale gold accents on softly textured silk...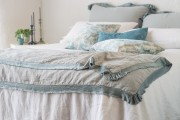 The Delphine Personal Comforter offers a couture take on our signature Linen. Lightly padded and framed with a double flange of raw edged Satin...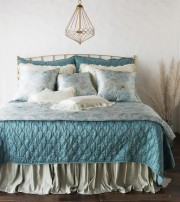 A secret garden in soft watercolor hues enchants atop silk charmeuse. Charmeuse: 65% Silk, 35% Linen, 4.5 oz Available in three color ways: Warm...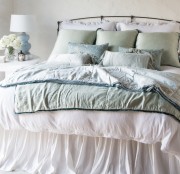 Luminous and luxe, silk velvet edges our shimmering charmeuse. Charmeuse: 65% silk, 35% linen, 4.5 oz; Silk Velvet: 82% Rayon, 18% Silk, 7 oz 55" x...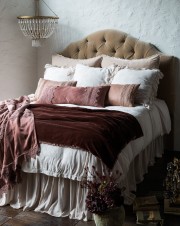 Soft and shimmer, a Charmeuse petite ruffle adorns our Silk Velvet. Silk Velvet with Charmeuse Petite Raw Edge Ruffle, Self Back, Lightly Padded, 8"...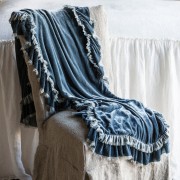 A flirtatious Silk Velvet collection with raw ruffed edges and dramatic drape; 82% Rayon, 18% Silk. Measurements: 56" x 76" 4" ruffle with raw...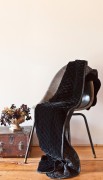 Quilted, reverses to Satin; edged in Satin Size: 47" x 72"