We offer complimentary designer assistance and our knowledgeable sales people are available Mon-Fri from
10 am to 6 pm and Saturdays from 10 am to 5 pm to guide you through the selection and ordering of all furniture and bedding shown on our website.
Bella Notte Baby Crib Dust Ruffels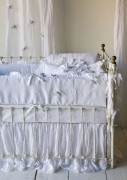 Comprised of sheer woven linen gauze, our gathered Linen Whisper Crib Skirt is an ethereal addition to your baby ensemble. Boasting an 18" drop...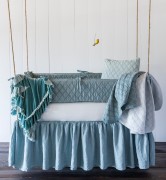 At once understated and elegant, our Linen Crib Skirt accompanies any ensemble with ease. Finished with soft gathers and a 16" drop, our skirt...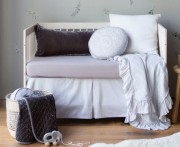 The front pleat on our Bria Crib Skirt gives the crib a tailored silhouette. Our 600-thread count cotton sateen dyes beautifully in all of our...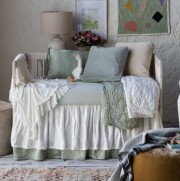 Our Paloma Crib Skirt is an iridescent vision in silk charmeuse. A luxurious layer for the base of the crib, this silken skirt is machine...